Location
Hammerstein Ballroom
The historic Hammerstein Ballroom, located within the Manhattan Center in Midtown Manhattan, was built in 1906 by Oscar Hammerstein. The magnificent former opera house, recently renovated, boasts a soaring 75-foot ceiling, a spacious 12,000 square foot interior, and excellent acoustical design. In the heart of Manhattan, the Hammerstein is ideally located within walking distance to Herald Square, Penn Station, and Times Square. Join us in April at this renowned New York City landmark to witness the ballroom legends of the past, present and future!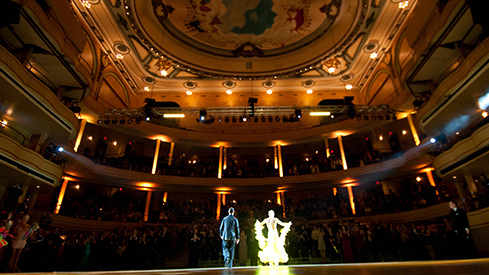 To see the seating chart for Dance Legends, please
click here
Address
Hammerstein Ballroom
311 West 34th Street
New York, NY, 10001
Hotel Information
Dance Legends has secured a group rate starting at $245 / night for queen room and $255 / night for double room + tax at:  New Yorker Hotel
 481 8th Avenue & 34th Street
 New York, NY 10001
 Telephone: 866-800-3088 or 212-971-0101
 Website:
http://www.NewYorkerHotel.com
The rate is valid for reservations on the following dates: Thursday, April 9 - Monday, April 13, 2015
There are two methods to book:
Call 866-800-3088 or 212-971-0101 and say you are a part of the group called "Dance Legends"