Katusha Demidova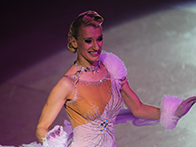 Katusha was born in Moscow, Russia and started dancing at the age of 7.
She is now the most titled ballroom dancer in United States history. With her previous partner, Jonathan Wilkins, she was World Ballroom Show Dance Champion and 12 time US Professional Ballroom Champion. Her current partner is Arunas Bizokas, and together they have won every major Championship in the world.
Arunas Bizokas
Arunas was born in Vilnius, Lithuania and started dancing at the age of 7.
His first partnership was with Edita Daniute at the age of 13; they had very successful career in the junior, youth, and adult amateur categories. They made their first finals in the European and World Amateur Ballroom Championships when Arunas was only 19 years old. After becoming World Amateur Champions, as well as winning the European, International, UK and British Championships, Arunas and Edita ended their partnership.
Couple's Career Highlights
Arunas and Katusha started dancing together in October 2007 and they immediately became an unstoppable force. After only one month together, Arunas and Katusha swept the Ohio Star Ball Championships, and then two months later participated in the UK Open Championships where they placed second among all the best dancers in the world.

Arunas and Katusha won their first World Professional Ballroom Championships title in September 2009, after dancing together for less than two years. Arunas and Katusha are also reigning International, UK, and British Champions.
They have been guest performers on "Dancing With The Stars" and feature performers on the popular PBS television show "Championship Ballroom Dancing."