Welcome to Dance Legends!
From Fred and Ginger to Dancing with the Stars, ballroom dancing has its share of legends. Now you have the opportunity to see today's living legends all in one place as we present a World-Class Ballroom and Latin show dance festival featuring World Champions from both past and present.
Slavik Kryklyvyy & Karina Smirnoff Return to Dance Legends!
We are excited to welcome Slavik Kryklyvyy & Karina Smirnoff back to the Dance Legends floor, where their reunion began, for our 5th Anniversary event. You won't want to miss this incredible show!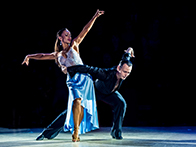 Fourth Annual Dance Legends a huge success!
For the fourth year, over two festive nights in April 2015, the stars of Latin & Ballroom convened in New York City to perform in a one-of-a-kind show. The beautiful and historic Hammerstein Ballroom set the elegant scene as legend after legend took the stage in a series of amazing show dances. The enthusiastic audience remained energetic throughout the magical weekend, cheering on their favorites and electrifying the atmosphere.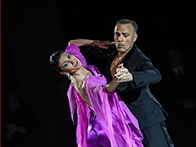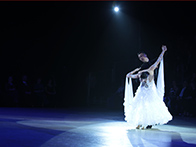 The unbelievable show left everyone inspired and wanting more with one audience member declaring it, "one of the best weekends of my life!" Dance Legends officially took the ballroom world by storm and is quickly becoming a staple of the NYC dance community.
To be a part of this memorable event, stay tuned for updates about Dance Legends 2016 or visit our store to purchase Dance Legends DVDs!