Amor Kruger
Amor started Rhythmic Gymnastics at the age of 6 and continued for 12 years. At the age of 16 she expanded her repertoire and studied Ballet/jazz and contemporary for 3 years. After meeting Gerhard she started with show dance that soon led to their passion in Exhibition dance.

What Amor loves most about Rhythmic Gymnastics or dance in general is the elegance and grace of all the movements how it is done absolutely effortless with so much control and fluidity. She also loves adding a wow factor to it by breaking through boundaries and doing things that seem impossible and leaving an audience in awe. That is what Amor loves most about Exhibition dance - she still gets to incorporate all her training as a rhythmic gymnast but also gets to add an extra wow factor by using it in spectacular lifts, which always keeps the audience at the edge of their seats. Amor says, "I love showing an audience something different and just basically blowing their minds away."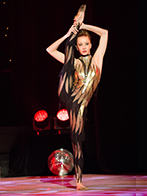 Gerhard Van Rooyeno
Gerhard started dancing at the age of 15 with Rock and Roll, Hustle, Latin American, and Ballroom. Soon after he started dancing he added more dance genres such as freestyle and slow dance. In 2008, he competed at the world freestyle championships in London and saw Exhibition Champions Craig and Natalie perform a demonstration dance. From that day Gerhard was inspired and decided that exhibition dance is what he wanted to specialize in.

What Gerhard loves most about dancing is capturing an audience and entertaining them. He doesn't particularly have one favourite dance genre and loves them all.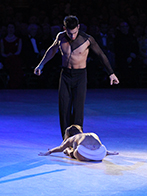 Couple's Career Highlights
Gerhard and Amor's proudest moment was when they won the British Exhibition Championships in 2013. It was their first year invited and receiving a standing ovation is one of the biggest honours a dancer can ever ask for, it shows a dancer the audience appreciation towards their craft. They then went on to win the Open World Dutch Exhibition championships in 2014 and 2015. Gerhard and Amor are now the Current World exhibition dance Champions two years running and also the current British Exhibition champions 2015.

Gerhard and Amor have only just begun and wish to achieve their dreams to defend their World titles as they continue to travel and be internationally recognized worldwide for their exceptional talents!